The
William
Davidson
Story
William "Bill" Davidson earned international esteem for his business brilliance and deft corporate leadership. An indomitable optimist who had "winning" in his DNA, he was supremely successful. He also made it possible for thousands of men and women in the United States and across the globe to make a good living and achieve professional success, too.
William Davidson (right) and Alton Brown (center), the vice president and sales manager of the western region at Guardian Industries, tour the New York Stock Exchange with a broker. "Keep focused on the bigger issue," Mr. Davidson counseled, "but always build good will along the way."
Mr. Davidson built a worldwide glass-manufacturing empire from a small, struggling company. He transformed lackluster professional sports teams into championship winners. He cherished his family, now settled for more than a century in metropolitan Detroit.
His is a quintessentially American story, stretching back several generations to a small village northwest of Kiev in the Ukraine. It springs from smart, steadfast parents and grandparents who kept family at the center of life — who always wanted more for their children — and saw it as a personal responsibility to give back, to help those less fortunate.
"Ours was a very loving, very caring family," says Dorothy Davidson Gerson, Mr. Davidson's older sister. "And always, the idea was to give back. There was the feeling that you had to take care of other people."
It was this feeling — this value — that guided Mr. Davidson's lifelong philanthropy. A no-nonsense entrepreneur who knew his own mind and trusted his instincts, he rarely sought the limelight. Instead, he proceeded quietly, guided by his convictions.
Three generations of the extended Wetsman-Davidson- Gerson- Saulson-Uhr Family gather (circa 1935) at the Port Huron cottage where they spent their summers.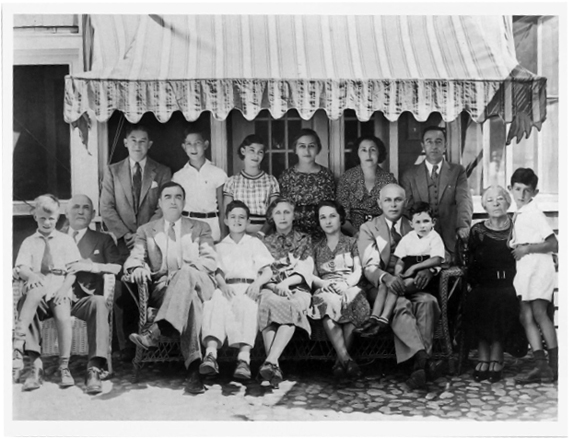 Guardian Industries:
The Spirit of an Entrepreneur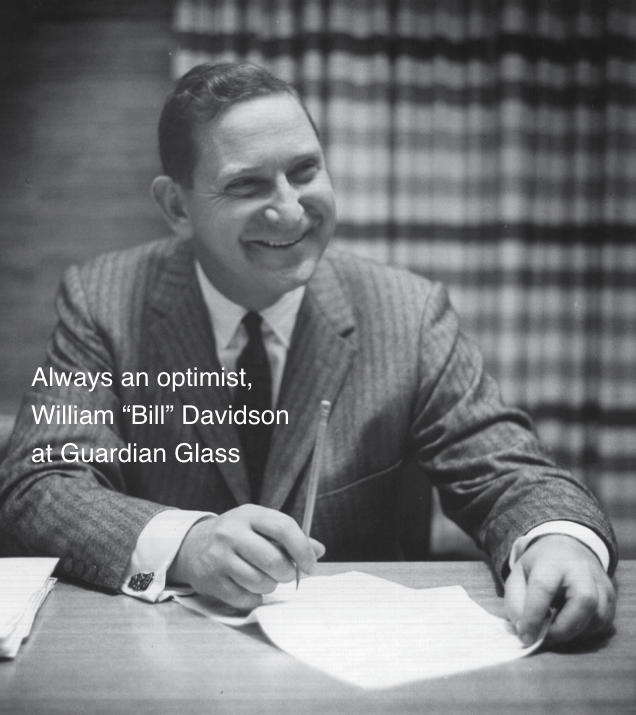 Mr. Davidson amassed his great wealth primarily through manufacturing. In 1955 at the age of 33, he assumed leadership of Guardian Glass, then a struggling, family-owned fabricator of automotive glass. Over time, he grew it into one of the world's largest and most profitable architectural and automotive glass manufacturers.
By the time he took over Guardian Glass, Mr. Davidson had already purchased several bankrupt companies and successfully turned them around. "To be an expert or a semi-expert," he said in 2004, "you must have enough background to know what you're about and what your field is. To develop a vision, you have to have that background. To have that background, you need education."
Mr. Davidson had a vision for Guardian Glass. He and other relatives purchased the company from their uncle and aunts and asked Mr. Davidson to assume leadership. He agreed, provided he was given complete control. With that secured, he shepherded the company through bankruptcy and devoted the next three years to Guardian's reorganization. Once on firm financial footing, he began expanding its scope to new markets.
This led, in 1968, to the creation of Guardian Industries Corp. and the decision to take the company public. By 1974 — 19 years after Mr. Davidson had initially assumed leadership and six years after going public — Guardian had sales in excess of $100 million. Five years later, in 1979, sales topped $200 million. Mr. Davidson served as chairman, president and CEO of Guardian Industries for the rest of his career.
"He was optimistic, as most good entrepreneurs are," recalls Peter Walters, who, before retiring, served as Guardian's group vice president for international business development. "Entrepreneurs see things as having good outcomes — as opposed to the conservative finance people who would ask, 'What would happen if the world comes to an end? Would we still be successful?'
"Bill Davidson would say, 'Hey, we can move fast enough to outmaneuver everyone if the world comes to an end. We can beat it,'" Walters explains.
At the time of Mr. Davidson's death, in March 2009, Guardian Industries was doing business in 150 countries on five continents and had revenues in excess of $5 billion. The worldwide workforce totaled 19,000.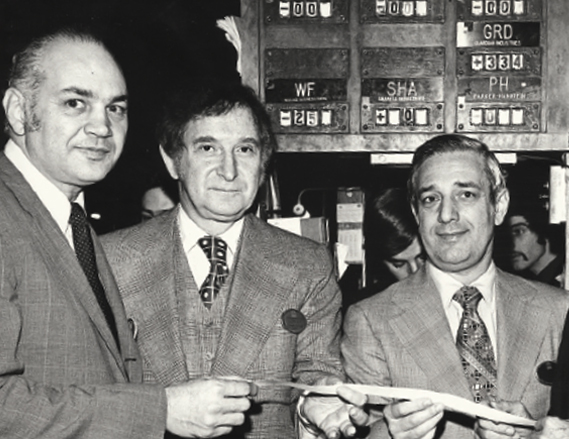 American Stock Exchange, 1968: Mr. Davidson
(second from left) buys the first 100 shares of
Guardian Industries stock.
"Bill would talk a lot about the Guardian family. When an employee working in Hungary (then a Communist country behind the Iron Curtain) severely injured himself on the job, Bill sent the company plane to take him to Luxembourg for treatment," Alonzo recounts. "He would do those things to help. They were part of the family and he was going to take care of them."
Richard Alonzo, a 39-year veteran of Guardian Industries who retired as vice president of engineering
Mr. Davidson surrounded by his Guardian Industries family as they form a giant "G" on the lawn of the corporate headquarters.
A Pro Sports Owner With
a Winning Formula
In 2004, Mr. Davidson etched his name in professional sport history in unprecedented fashion.
That year, the three professional teams Mr. Davidson owned won league titles — the Detroit Pistons of the NBA, the Tampa Bay Lightning of the NHL, and the Detroit Shock of the WNBA. Each team reigned supreme and together cemented Mr. Davidson's legacy as a pro sports legend: The first owner of three championship squads in the same year.
Mr. Davidson himself was an all-around athlete, a track and field star in high school and later a member of the Armed Forces football team during World War II.
"Cunning on the squash courts," too, as one much-younger opponent lamented, noting that Mr. Davidson was an avid tennis player well into his 70s.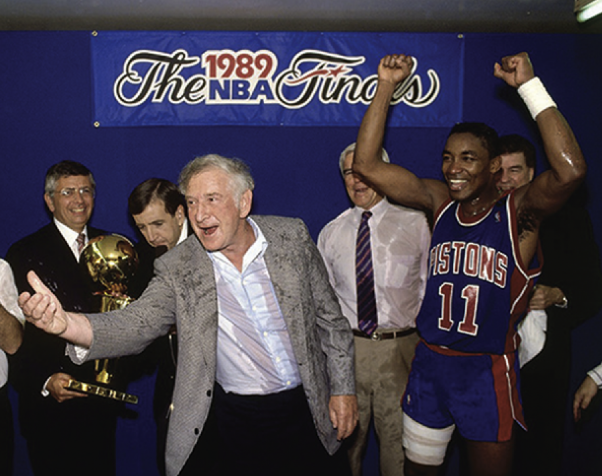 Victory! A jubilant "Mr. D," as William Davidson was fondly called, and All-Star point guard Isiah Thomas and others celebrate the Pistons' four-game sweep of the 1989 NBA Finals, beating the Los Angeles Lakers in a rematch of the 1988 championship.
Mr. Davidson and Isiah Thomas, #11 of the Detroit Pistons, celebrate winning the 1989 NBA championship.
"I played everything — baseball, football, anything you could do," Mr. Davidson recalled five years before his death. "The great thing about that period of time in my youth was that there was no television, so you weren't in the house, you were out. More importantly, there weren't any organized sports. We had to organize our own sports, which, as I reflect now, gave me organizational skills I otherwise wouldn't have had."
As proof of that, the Pistons won NBA titles in 1989, 1990 and 2004. Along the way, Mr. Davidson helped transform the business of professional basketball by continuously creating optimal conditions for his team.

He upgraded his team's hotel stays for away games. He ended his team's dependence on commercial air travel, purchasing a private plane (Roundball One and later Roundball Two) to ferry them to games, thereby extending, rather than curtailing, their pre-game rest.

He also founded Palace Sports and Entertainment, which built — exclusively with private funds — The Palace of Auburn Hills. The beyond-state-of-the-art, 22,076-seat sports and entertainment arena, located in suburban Detroit, redefined the player and the fan experience nationwide.
Arnie Kander, the Detroit Pistons' strength and conditioning coach for 23 years, says Mr. Davidson cultivated deep, personal relationships with the players and coaches and expressed genuine interest in all those who worked for Palace Sports and Entertainment. He spent time at the practice facility every day and sat courtside at every game. "I remember his speech when we won the championship in 2004," Kander says.
"It was all about doing things the right way. There were no cutting corners." "It was really a family," Kander says of the Pistons organization. "He created a family and that starts from the top. That doesn't happen by accident."
The retired jerseys of Piston greats along with the signature of the team's beloved owner, William Davidson, adorned the rafters at The Palace of Auburn Hills, the sports and entertainment arena Mr. Davidson built for his NBA and WNBA players.
Shaped by Family: Strong,
Tight and Enterprising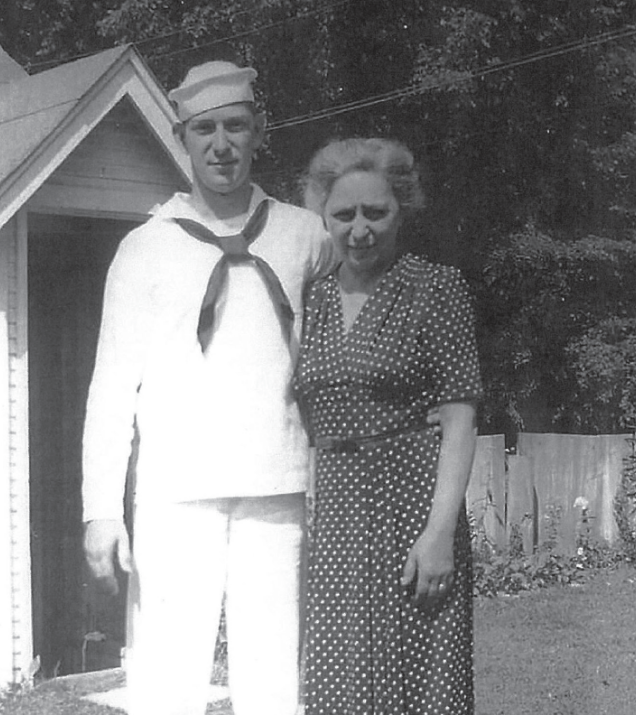 Mr. Davidson with his mother, Sarah Wetsman Davidson.
She was a strong and loving constant in his life.
Mr. Davidson's family story is one of fearless pursuit of a better life, of sacrificing for the benefit of future generations, and of the power of family ties. His grandfather fled Tsarist Russia and 25 years of mandatory military conscription in 1886 to travel with his bride the harrowing 3,500-mile passage in steerage from Hamburg, Germany to New York City.
Unlike many refugees, Joseph Wetsman and his wife Bessie had a plan: once in New York, they were to travel on Muscatine, Iowa. There a fellow Ukrainian was expected to greet them and help them settle. But the person never appeared, and the Wetsmans, with little money and no English-language skills, were on their own in Muscatine.

The couple also made a pledge: they would save their money and bring their relatives to the United States, one by one.

Joseph worked as a peddler, with his wares on his back, and Bessie in a canning company. Within 16 years, the family had grown to seven, with two sons and three daughters; had moved from Muscatine to What Cheer, Iowa, and on to Oskaloosa for ever-greater business opportunities; and were bringing relatives to the United States as their savings permitted.

The Westmans moved to Detroit in 1902, to join Joseph's brother and take advantage of the city's robust real estate market and, for their children, its excellent schools and universities. Joseph's entrepreneurial acumen, first developed in the Ukraine, had flourished in the U.S. In Detroit, the family was quite successful in commercial real estate and the budding movie-theater business.
Sarah Wetsman, their oldest daughter, was an outstanding student and a natural leader. She married Ralph Davidson, who emigrated from Prussia to Michigan with his parents and sister. They had two children, Dorothy and William.
"My mother and father were two of the most loving, kind, wonderful human beings," recalled Dorothy Davidson Gerson. "My mother was the oldest daughter so she felt she had to take care of her brothers, sisters – everyone. My father was the oldest child in his family and he also was a caretaker."
"The only other male left in our family was my uncle, Frank Wetsman, so I came back to work in the family businesses. Our business was the theater business, so I worked nights and went to law school in the daytime at Wayne State and eventually got my degree."
William Davidson served two years in the U.S. Navy during World War II; during that time he also played Armed Forces football.
In 1941, when Mr. Davidson was 19 and a sophomore at the University of Michigan, tragedy struck the family. His father and uncle were killed in a car accident. Suddenly he had to return home to Detroit to be with his family; he enrolled in nearby Wayne State University.

Shortly thereafter, the United States entered World War II and Mr. Davidson joined the Navy. He served for two years in the Pacific, first on a picket ship and then on a destroyer. Seven years after first enrolling at the University of Michigan, he returned to complete his business degree and graduate in 1947.
"The only other male left in our family was my uncle, Frank Wetsman, so I came back to work in the family businesses," he said. "Our business was the theater business, so I worked nights and went to law school in the daytime at Wayne State and eventually got my degree."
Mr. Davidson once said he learned the true importance of community when his father died. Although his parents and extended family members were pillars of their community, this was the first time he experienced the totality of its embrace. The devastating loss taught him the true meaning of charity – the power of receiving and the power of giving, not only money but also time and effort for the welfare of others.
Philanthropy: Driven by
the Big Idea
William Davidson believed deeply in the history of the Jewish people. "My personal, ethical experience grows out of my Jewish faith," he explained in 1998.
William Davidson believed deeply in the history of the Jewish people. "My personal, ethical experience grows out of my Jewish faith," he explained in 1998.
Over the years, Mr. Davidson's own charitable giving took three forms: support for the Jewish people; support for educational initiatives to spur business development and job creation; and support for cultural and recreational outlets that enrich lives andoverall quality of life.
"If you look at the major gifts Bill made during his life, there were really two things that characterized his giving," says Bob Aronson, a longtime adviser. "One was a big idea based on something that he believed in. The second was trust. Bill was all about people. He was really investing in people to get the job done."
Bob Aronson, a longtime adviser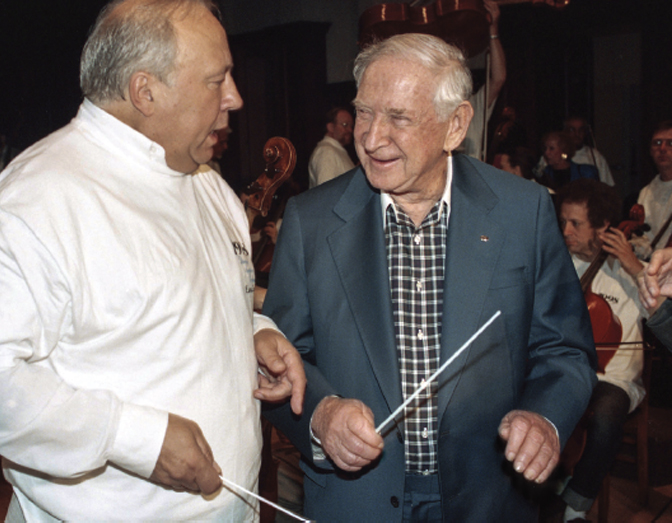 William Davidson believed the Detroit Symphony Orchestra enriched the quality of life in Southeast Michigan. His friendship with Neeme Järvi, its musical director and conductor, led to the establishment of a fund that made it possible for the orchestra to enhance its reputation and that of the City of Detroit by touring nationally and internationally. Photo: Allen Einstein
Later in life, Mr. Davidson agreed to lend his name to three big ideas that captivated his interest and satisfied his desire to make a lasting contribution to future generations. They each were associated with institutions in whose leadership he had the utmost trust.

He endowed the William Davidson Graduate School of Jewish Education at Jewish Theological Seminary. He wanted day-school educators and lay leaders to be trained at the highest levels.

He established the William Davidson Institute of Science Education at the Weizmann Institute of Science in Rehovot, Israel, to translate and disseminate the institute's cutting-edge scientific research discoveries for teachers, students and the public.
"The school is set up to transform the Israel education system and prepare Israeli kids for the future. It's happening," Davidson explained in 2004.
Although most of his charitable giving was directed to organizations in Southeast Michigan and Israel, he had a global purpose in mind in 1992 when he founded the William Davidson Institute at the University of Michigan. He wanted to bring market principles to economies in transition, beginning with those in Eastern Europe.
Mr. Davidson learned of this need firsthand in 1988 when Guardian Industries entered into a joint venture with a state-owned company in Hungary, which was just beginning to open to western investors. Today, the William Davidson Institute teaches market-economy principles to low- and middle-income countries throughout the world.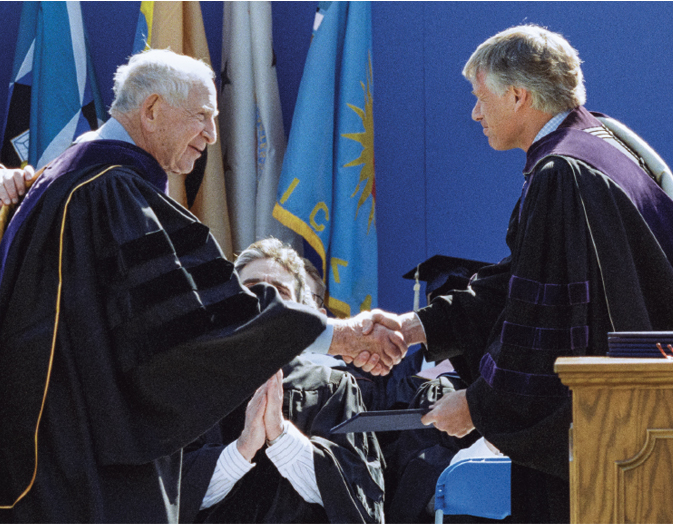 On behalf of the Regents of the University of Michigan, President Lee C. Bollinger
shakes William Davidson's hand after conferring upon him an honorary Doctor of Laws degree and admitting him to "all its rights, honors and privileges," April 28, 2001.
Photo: Michael J. Schimpf
A Lifetime of Leading
by Example
Mr. Davidson lived his entire life in the Detroit metropolitan area. His corporate empire was located there as were two of his three professional sports teams.
"Despite the levels to which Bill rose as a businessman and as an investor and as a philanthropist, he was always a Detroiter," Aronson says. "What that means is that he was humble. He had simple tastes."
NBA great Joe Dumars, who played for the Detroit Pistons his entire career and starred on the 1989 and 1990 championship teams, admired his humility. "Everyone in the Pistons organization knew he was selfless," he says. "It wasn't about him. He wasn't trying to get attention and have the spotlight on him."
In 2000, Mr. Davidson hired Dumars, newly retired from professional basketball, to be the club's President of Basketball Operations. During his tenure as president, Dumars recalls talking to Mr. Davidson nearly every day, but not about basketball.
" We each have a responsibility to do all we can to provide a better world for future generations."
William Davidson
1922-2009
"This man was one of the best givers I've ever seen in my life. And I don't mean just financial. I'm talking about his time, his spirit, his heart."
Joe Dumars, former Detroit Piston and
president of Pistons' Basketball Operations
"We talked about life and people and the type of people you want to surround yourself with, the type of environment you want to build," says Dumars, a six-time NBA All-Star who was inducted into the Basketball Hall of Fame in 2006.
"'The number-one thing that you want to do, Joe,' he said to me, 'in selecting someone for a position is not to focus too much on the person's qualifications, but instead to look at the type of person they are. The first thing you have to always do is make sure you are dealing with a good person. After that, the rest of it will work itself out.'"
Dumars, who built the team that won the 2004 NBA crown, worked for Mr. Davidson until his death in 2009.
"I've said this for a long time, there are givers and takers in this world," Dumars continues. "This man was one of the best givers I've ever seen in my life. And I don't mean just financial. I'm talking about his time, his spirit, his heart. You know what I mean?"
The William Davidson Story