How We Work
At the William Davidson Foundation, we strive to be an "all-in" foundation — inspired by Mr. Davidson's legacy, intentional about the use of our assets, deeply informed about the fields and organizations in which we invest, and inclusive in our approach to our work with grantees and partners.
Inspired by Mr. Davidson's legacy
Mr. Davidson left an indelible imprint on the communities and organizations in which he invested. He took care in instructing his family that in the work of the Foundation, they should "Do what I've always done." We are careful to steward relationships with and commitments to organizations and initiatives that were formed during his life, especially those few to which he attached his name.
At the same time, we interpret his guidance not to mean that we should fund exactly what he did. He was known to change his mind, shift focus, end partnerships, and make risky, but calculated bets. Instead we are trying to "figure it out" as he did — always scanning for opportunities to support the economic, cultural, and civic vitality of Southeast Michigan, Israel, and the Jewish community through significant and transformative investments.
Please note: We do not accept unsolicited proposals, but work to discover new opportunities through active networking, online research, and referrals from grantees or partners in the philanthropic community.
Intentional about the use of our assets
We concentrate our efforts in a small set of focus areas and strategies, directing our assets — financial and otherwise — in an intentional way toward the areas we believe have the greatest potential for impact. As we continue to build and professionalize the organization, we are working to get clearer over time about our goals, our measures of success, and our approach to risk.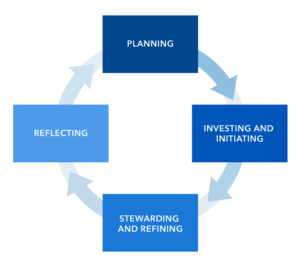 As the program lifecycle figure depicts, we will at times be reflecting on past work in a given area or strategy. At other times, we may be concentrating on stewarding our existing commitments. Finally, there may be times when we are ramping up our efforts in a given portfolio and concentrating on finding new partnership and investment opportunities.
Increasingly, we are looking at ways that we can go beyond the checkbook, so to speak, to help our grantees and other partners grow stronger and more impactful, whether it is through gatherings and other exchanges or the smart use of our name or network.
Informed about the fields and communities in which we work
We are building a team of professionals who bring deep knowledge and professional networks related to our focus areas and strategies. We want to be active members of the communities in which we invest and work, all the while recognizing the need for humility and the recognition of potential power imbalances.  Our due diligence is based less on formal proposals than by gathering publicly available information, seeking out additional materials from potential grantees, and then exploring through dialogue and customized questionnaires the opportunities to support a given project, initiative, or organization.
Inclusive in our approach to working with grantees and partners
We strive for a deep level of connection and transparency with our grantees and partners. We find that some of our best ideas come from this network, and that our ideas are improved when we share them with others. We are members of various associations and affinity groups in the philanthropic community and look to sponsor, host, or engage in a variety of gatherings.